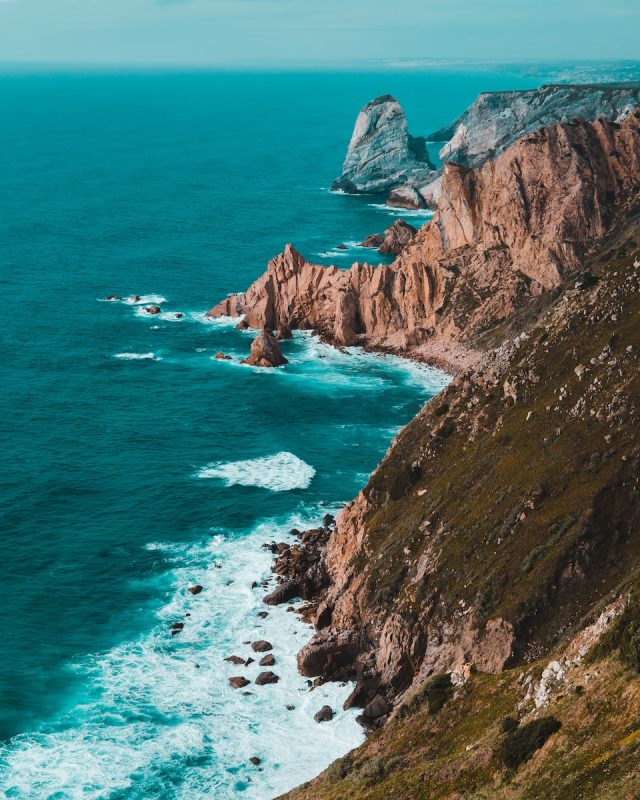 Reading Time:
8
minutes
Introduction
Portugal has it all – history, culture, and some seriously stunning natural wonders. If you're planning a trip to Portugal for the first time, we've got you covered. We will take you through five top destinations you absolutely can't miss.
Portugal is a seriously cool place. It's got a lot of history, from the explorers who set sail from here to the traditional fado music and dance. Plus, the weather and the coastline are gorgeous, and the locals are super friendly. That's why so many people from all over the world are starting to flock here.
So, what can you expect from this guide? We're going to give you the inside scoop on Lisbon, a city that blends old and new like no other. We'll show you Porto, famous for its wine and stunning riverside views. And we'll take you to Sintra, where you'll feel like you're in a fairy tale. Of course, we can't forget about the Algarve beaches – they're the perfect spot to kick back and relax. Finally, we'll take you to Madeira Island, a captivating destination with its lush landscapes and vibrant culture.
Whether you're into history, nature, or food or just want to have an adventure, we've got something for you. So come along with us on this journey through Portugal's top spots. Let's go explore!
Lisbon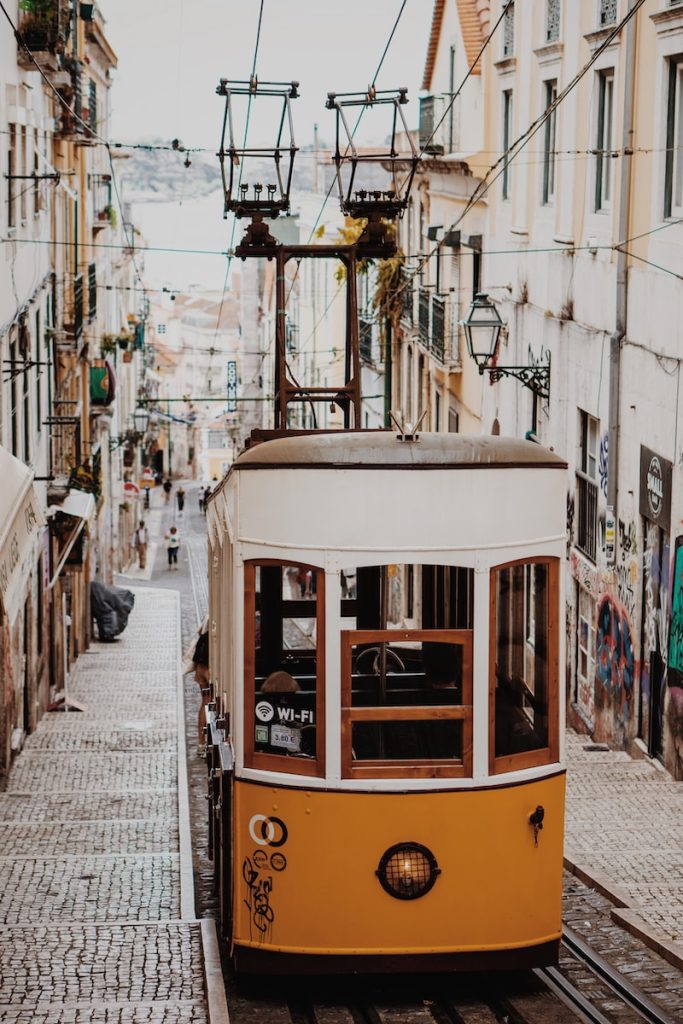 It's Portugal's capital, and it's a really cool mix of old and new. The buildings are colorful, and there's a river running through it that adds to the charm. Plus, the city is pretty hilly, so you can get some amazing views if you're up for the climb.
There are some awesome things to see in Lisbon, like the Belém Tower. It's a UNESCO World Heritage site and used to be an important defense structure back in the day. The Jerónimos Monastery nearby is another must-visit spot. It's got some incredible stone carvings and tells the story of Portugal's history with the sea.
If you want to soak up the city's vibe, you've got to check out the Alfama district. It's an old part of town with winding streets and traditional Fado music playing in the taverns. The yellow trams that run through the city are a fun way to see the sights and feel like a local.
One of my favorite things to do in Lisbon is to visit São Jorge Castle. It's up on a hill and has an amazing view of the city and the river. The castle itself is really cool too, with ancient walls and courtyards to explore.
And don't forget about the food! You've got to try the pastéis de nata, which are custard tarts with a crispy crust. They're famous in Lisbon, and you can get them at the Pasteis de Belém bakery. If you're into seafood, the Mercado da Ribeira food market is the place to be.
There's so much to do in Lisbon and something for everyone. Check out the Bairro Alto and Chiado neighborhoods if you're into nightlife and shopping. If you're into art, the Gulbenkian Museum has an amazing collection of ancient and contemporary works. And if you just want to relax, head to one of the city's parks like Edward VII Park or the gardens in Belém.
Lisbon is a city that's full of history, culture, and great experiences. It's definitely a place that you won't forget anytime soon!
Porto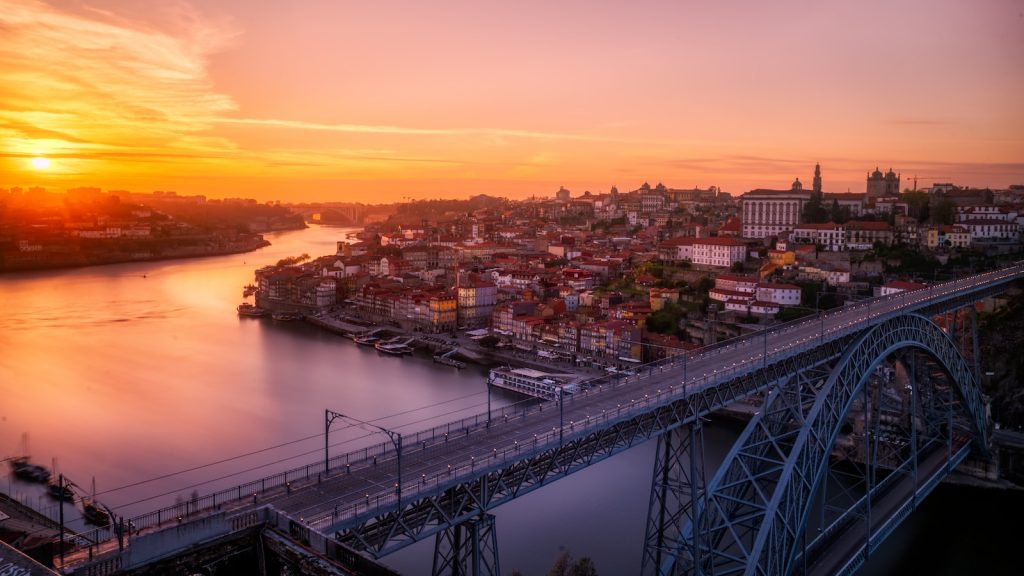 Porto is such a cool city in northern Portugal with a ton of charm and history. The Douro River runs through it, and there are some amazing bridges and architecture to check out. Plus, the port wine they make there is famous around the world!
My favorite part of Porto has to be the Ribeira District. It's a really cute area with narrow streets, colorful houses, and lots of cafes. You can walk along the river and take in the views of the Dom Luís I Bridge. And if you want a great view of the city, you have to check out the Clérigos Tower. It's a tall bell tower that's perfect for taking pictures.
But let's be real; the port wine is the real star of Porto. You can visit the wine cellars in Vila Nova de Gaia and learn all about how it's made. And of course, you have to try some while you're there! And if you're a book lover, Livraria Lello is a must-see. It's a gorgeous bookstore that supposedly inspired Harry Potter.
There's also a really cool market called Bolhão Market where you can find all sorts of local foods and crafts. And if you're into art, the Serralves Museum and Miguel Bombarda neighborhood has some great galleries and street art to check out.
Overall, Porto is just a really fun and unique city with so much to offer. Whether you're a history buff or a foodie, you'll find something you love there.
Sintra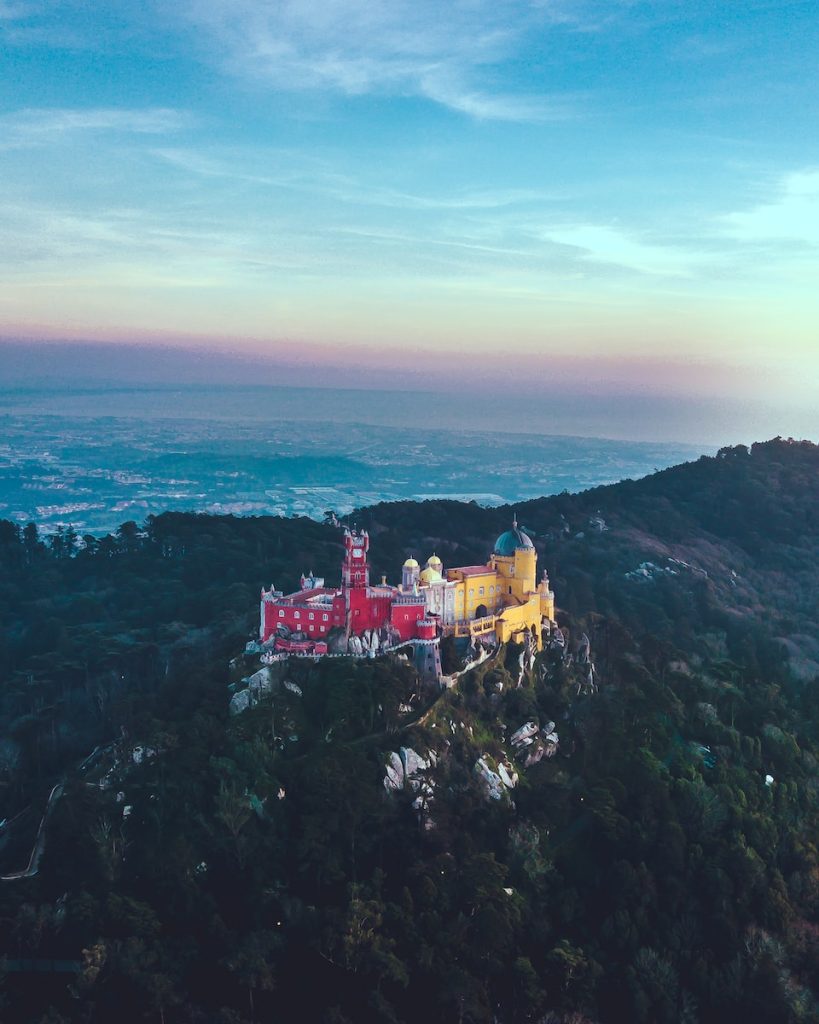 Have you ever heard of Sintra? This magical town in Portugal looks like it's straight out of a fairytale. The place is surrounded by lush hills and filled with romantic palaces, mystical gardens, and stunning architecture. It's only a short trip from Lisbon, and it's totally worth the visit.
The streets in Sintra are so charming, with narrow alleys and colorful tiles that make you feel like you're in another world. One of the coolest things to see there is the Pena Palace, which is this whimsical and flamboyant masterpiece of Romantic architecture. The colors are amazing, and you can walk around the palace and the park surrounding it to take in the incredible views.
Another must-see spot in Sintra is the Quinta da Regaleira estate, with its underground tunnels, lush gardens, and the famous Initiation Well. The well is this inverted tower with a spiral staircase that looks super mysterious. You can wander around the gardens and try to find all the hidden symbols.
If you're into history, you should check out the Moorish Castle, this medieval fortress on top of a hill with amazing views of the town and surrounding countryside. And the National Palace of Sintra is definitely worth a visit, too. It's got twin chimneys and beautiful azulejo tilework that represents the town's cultural heritage.
But even if you don't want to focus on the touristy stuff, there's still so much to do in Sintra. You can walk around the town center and stop at cafes to try some of the local pastries or check out the craft shops and boutiques for unique souvenirs. And if you're into nature, the Sintra-Cascais Natural Park is a paradise of forests, cliffs, and beaches.
Honestly, just walking around and exploring the streets of Sintra is enough to make you feel like you're in a magical world. It's such a beautiful and enchanting place that will leave you with memories that last a lifetime.
Algarve Region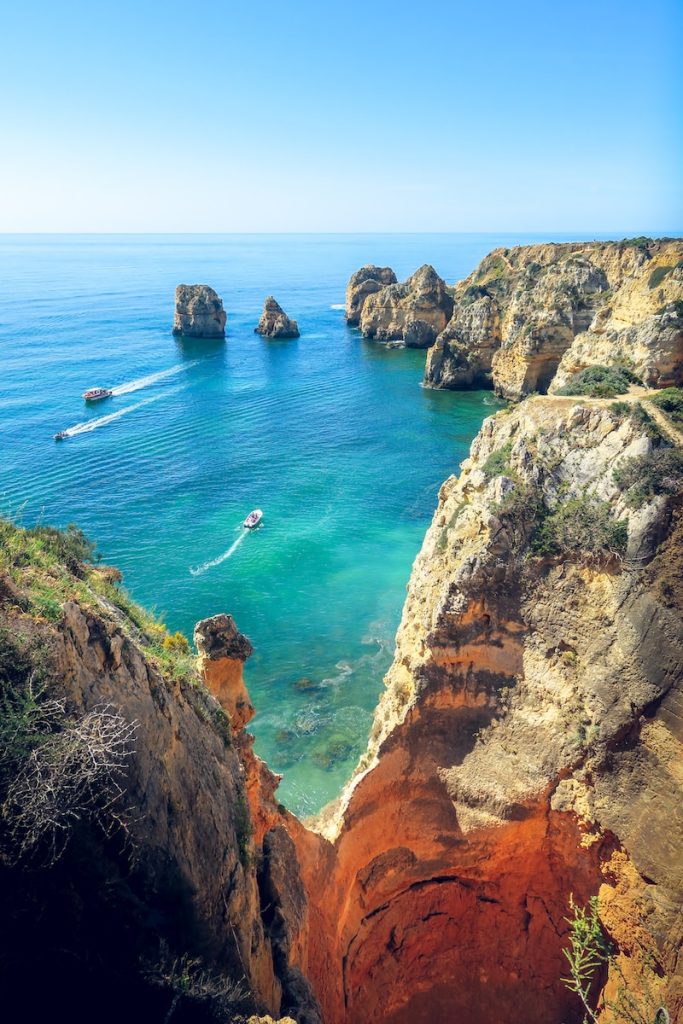 Have you heard of the Algarve in Portugal? This amazing place in the south has everything you could want on a vacation. There are these gorgeous towns, stunning beaches, and the coastline is breathtaking. Plus, the climate is mild all year round, making it perfect for anyone who loves the outdoors or just wants to relax.
One of the best things about the Algarve is its beaches. There's this one called Praia da Marinha that's just stunning with its crystal-clear water, cliffs, and rock formations. And then there's Praia de Benagil, which has this iconic sea cave and golden sand. You can even take a boat tour to explore the caves and see the turquoise waters light up.
If you're into history and charm, you'll love Lagos. They've got a historic center with narrow streets, squares, and a fortress from the 17th century. And the beaches, like Praia Dona Ana and Meia Praia, are perfect for soaking up the sun or trying out some water sports.
You should check out Praia da Rocha in Portimão for a more lively scene. It's got this long sandy beach with hotels, restaurants, and beach bars. You can also try your luck at the casino or take a boat trip to explore the hidden coves and grottos.
And let's not forget the food. You have to try fresh seafood dishes like grilled sardines or cataplana, which is this traditional seafood stew. The local markets are also a must-visit, like the bustling Mercado de Olhão, where you can sample regional products and hang with the locals.
Oh, and when the sun sets, the Algarve comes alive with its nightlife. Albufeira is known for its buzzing bars and clubs that cater to all tastes. You can dance the night away, listen to live music, or just chill with a drink and soak up the atmosphere.
So, if you're looking for a sun-drenched paradise with something for everyone, the Algarve is the place to be. It has natural beauty, warm hospitality, and a laid-back lifestyle, making it an unforgettable destination.
Madeira Island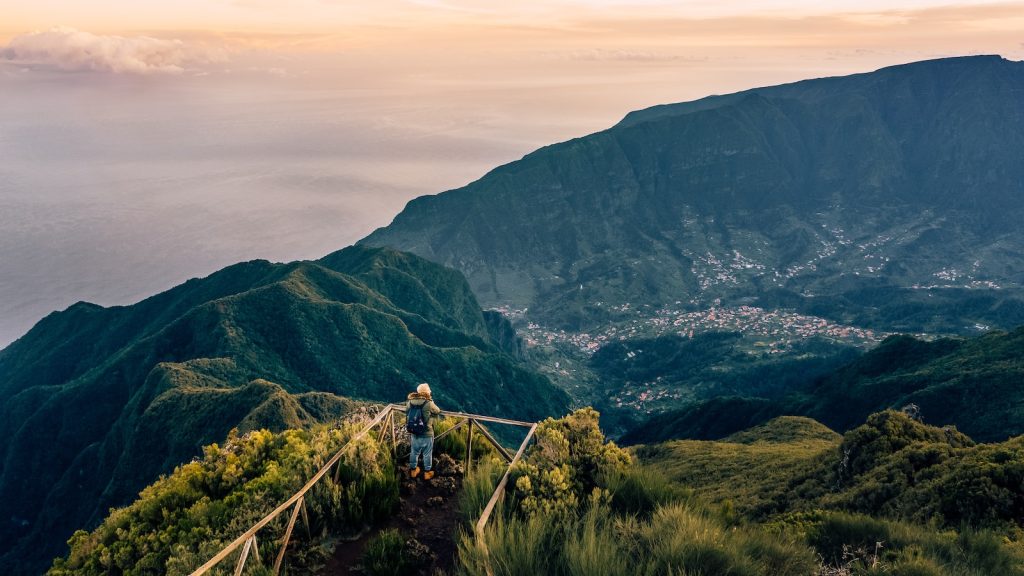 If you're a nature lover and crave adventure, you have to check out Madeira Island in the Atlantic Ocean. It's seriously breathtaking with its gorgeous landscapes, rugged coastline, and mountain views – no wonder it's known as the "Pearl of the Atlantic." And the weather is mild year-round, so it's perfect for exploring!
One of the coolest things about Madeira is the levadas, which are these old irrigation channels turned into hiking trails. You can wander through forests, see waterfalls, and take in incredible views of the valleys and the sea. When you're ready to explore the city, make your way to Funchal. The old town is super charming with its narrow streets and historic buildings. And the market there is a must-see – you can find the freshest fruits and veggies and all kinds of cool handicrafts.
Speaking of cool, you have to check out the Monte Palace Tropical Garden with all its exotic plants and oriental-inspired pavilions. And the Jardim Botânico is a botanical garden with an incredible collection of plants from all over. If you're into wine, you'll love the wine lodges in Funchal, and you have to try the Madeira wine – it's famous for a reason!
For the adventurous, you can take a cable car ride from Funchal to the village of Monte and then ride a traditional Monte Toboggan sled downhill. And if you want to see the coastline, take a boat trip to explore the sea caves and see dolphins and whales. Finally, if you're there during spring, you can experience the Flower Festival, or if you're there on New Year's Eve, you can see the Guinness World Record fireworks display.
Overall, Madeira Island is a one-of-a-kind destination that has something for everyone. With its natural beauty, outdoor activities, rich culture, and friendly locals, it's the perfect place to escape and make unforgettable memories.
Conclusion
Hey there! If you're planning a trip to Portugal, you're in for a treat. We visited five awesome destinations there and were blown away by Lisbon's charm, Porto's wine and views, Sintra's fairytale vibes, the Algarve's beaches, and Madeira Island's beauty.
Now, if you're headed to Portugal for the first time, here are some tips to make the most of your trip. Spring and fall are the best times to go – the weather's lovely, and the crowds aren't as crazy as in the summer. Bring good walking shoes because you'll want to explore the cobblestone streets and trails. Don't forget sunscreen and a hat, especially in summer. And you've gotta try the food! Bacalhau and pastéis de nata are traditional dishes you won't want to miss.
As you travel through Portugal, soak up the history, culture, and natural wonders around you. There's so much to see and do, from checking out landmarks to exploring cute towns to taking in gorgeous views.
So, get ready to fall in love with Portugal! It's a journey you won't forget.