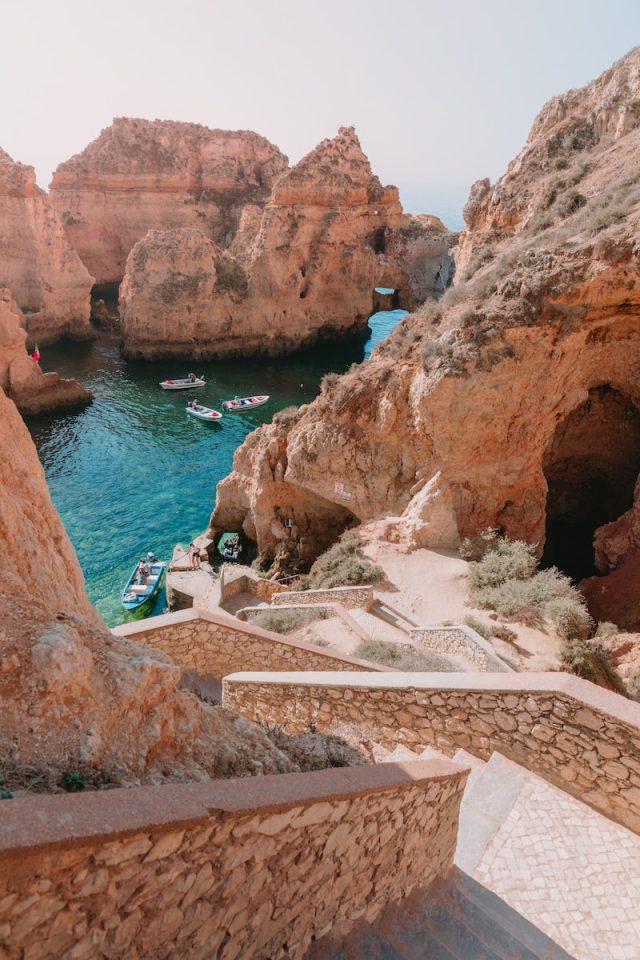 Reading Time:
7
minutes
Introduction
Hey there! Have you ever been to Portugal? It's seriously amazing. The streets of Lisbon are so charming, and the beaches in Algarve are just stunning. But did you know that there are some hidden gems in Portugal that are just waiting to be discovered?
I'm here to take you on a journey off the beaten path and show you some of Portugal's lesser-known destinations. We'll check out places like Belmonte and Serra da Lousã, which you may not have even heard of before. These hidden corners of Portugal are seriously cool and offer a mix of natural beauty, cultural heritage, and a real connection to the country's soul.
We'll go to the medieval town of Belmonte, surrounded by rolling hills and vineyards, and explore the picturesque landscapes of Serra da Lousã, where there are ancient castles and some really amazing hiking trails. I'll give you some insider tips and share some immersive storytelling to inspire the adventurer in you.
So, what do you say? Let's leave the tourist maps behind, pack our curiosity, and go explore Portugal's hidden gems. Trust me; you won't regret it!
Belmonte: Unveiling the Riches of a Medieval Gem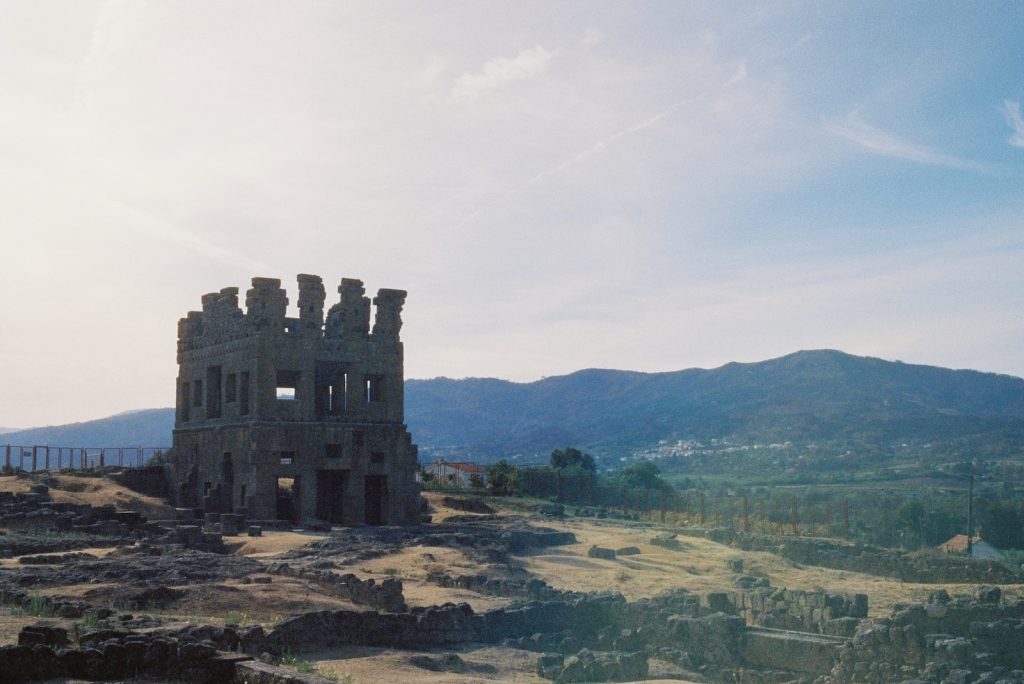 Have you ever heard of Belmonte in Portugal? This super charming town is nestled in the hills, and it's seriously worth checking out. The natural scenery is gorgeous, and the architecture is really old and cool. If you're into history, you'll especially love the medieval castle. You can climb up the walls and towers and see some amazing views of the surrounding area.
But what really sets Belmonte apart is its Jewish heritage. During the Inquisition, a bunch of Sephardic Jews sought refuge in the town, and you can learn all about their history at the Jewish Museum of Belmonte. They have all kinds of artifacts and stories that give you a real sense of the impact Jewish culture has had on the town.
There are lots of other things to see and do in Belmonte, too, like the old church and all the cute little streets with historic buildings. And if you like being outdoors, there are plenty of hiking trails and scenic spots to explore. Trust me, Belmonte may be small, but it's got so much to offer. It's definitely a hidden gem in Portugal, and you won't regret checking it out!
Monsaraz: Where Time Stands Still in Alentejo's Hidden Corner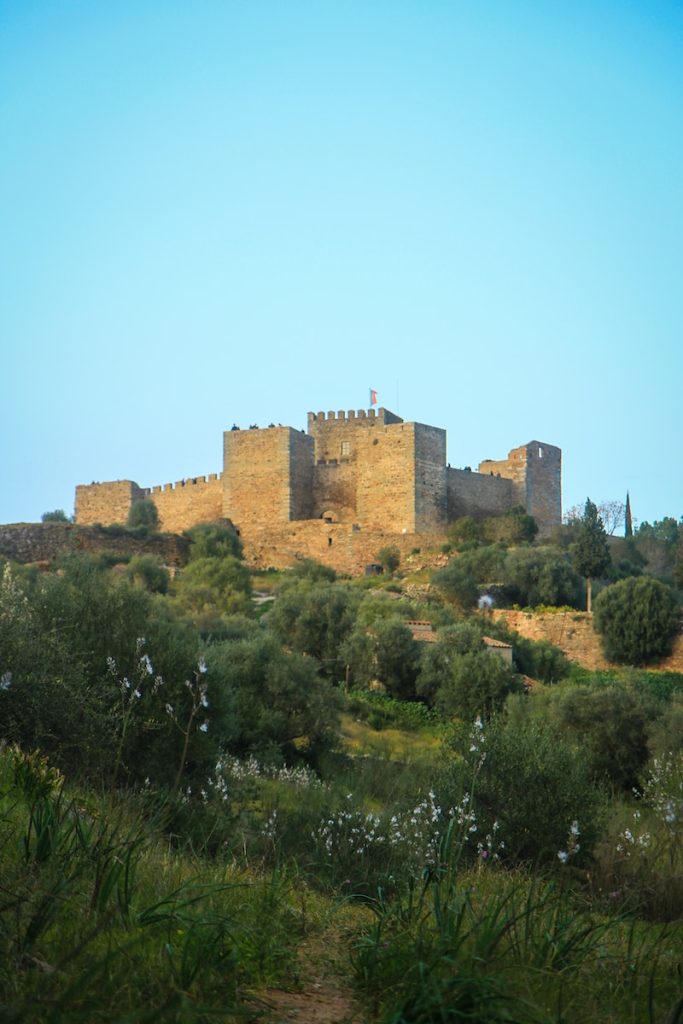 This charming village sits atop a hill in Alentejo and offers a serene escape from the hustle and bustle of modern life. With cobblestone streets and ancient walls, the breathtaking views of the countryside will transport you back in time, immersing you in the rich history that permeates the entire area.
What I love about Monsaraz is how authentic it feels. It's not one of those tourist hotspots that's been commercialized to death. This is the real deal. You get to experience the region's cultural heritage without all the crowds.
One of the highlights for me was the connection to the land. Monsaraz is surrounded by vineyards and plains, making it a perfect spot for wine lovers. You can stop by a local winery and taste some of Alentejo's famous wines while learning about the winemaking traditions that have been passed down for generations. It's an incredible way to connect with the land and the people who live there.
If you're into outdoor adventures, Monsaraz has you covered too. The countryside is perfect for hiking, with rolling hills and winding paths that offer stunning views and a chance to disconnect from technology.
And if you just want to relax and soak up the local vibes, a stroll through the narrow streets is the way to go. There are plenty of small shops selling local crafts and arts, cozy restaurants offering traditional Alentejo cuisine, and friendly locals who are always happy to chat and give recommendations.
Monsaraz may be small, but it's got a huge amount of charm. It's the perfect place to escape the craziness of modern life and enjoy the simple pleasures. If you're looking for an authentic Alentejo experience that celebrates history, culture, and nature, Monsaraz is definitely worth a visit.
Vila Nova de Milfontes: Where Coastal Beauty Meets Gastronomic Delights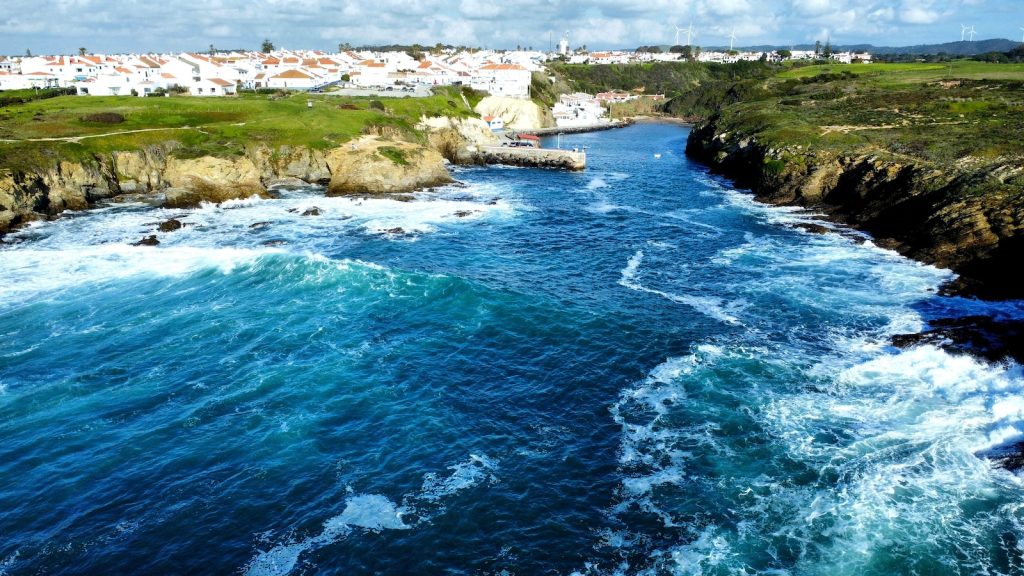 It's a super cute coastal village in Portugal that's totally worth a visit. The atmosphere is chill and welcoming, with white houses, narrow streets, and colorful accents that instantly put you at ease. This is it if you're looking for a place to unwind and soak up some coastal charm.
The beaches in Vila Nova de Milfontes are pretty amazing. There's something for everyone – from lively spots to quiet hideaways. If you're into nature, you'll love Praia das Furnas with its rugged cliffs and clear water. If you just want to soak up some sun, Praia de Franquia has golden sand and calm water, perfect for sunbathing and building sandcastles. Plus, there are tons of water activities like surfing and paddleboarding if you're feeling adventurous.
But there's more to Vila Nova de Milfontes than beaches. The Parque Natural do Sudoeste Alentejano e Costa Vicentina is a protected nature reserve that's perfect for hikers and nature lovers. You can explore scenic trails through forests, cliffs, and riverbanks and spot all kinds of wildlife and flora.
And let's not forget about the food. Vila Nova de Milfontes is famous for its seafood, and local restaurants serve up fresh catches of the day that are seriously delicious. You have to try the grilled fish and seafood stews – they're amazing.
At night, the village comes alive with cozy bars and cafes playing live music. It's the perfect spot to unwind and enjoy the evening.
So, if you're looking for a coastal paradise with beautiful beaches, amazing food, and plenty of natural beauty, Vila Nova de Milfontes is the spot for you. Pack your swimsuit, appetite, and sense of adventure, and prepare for an unforgettable trip.
Serra da Lousã: Where Nature's Majesty Unfolds in the Heart of Portuga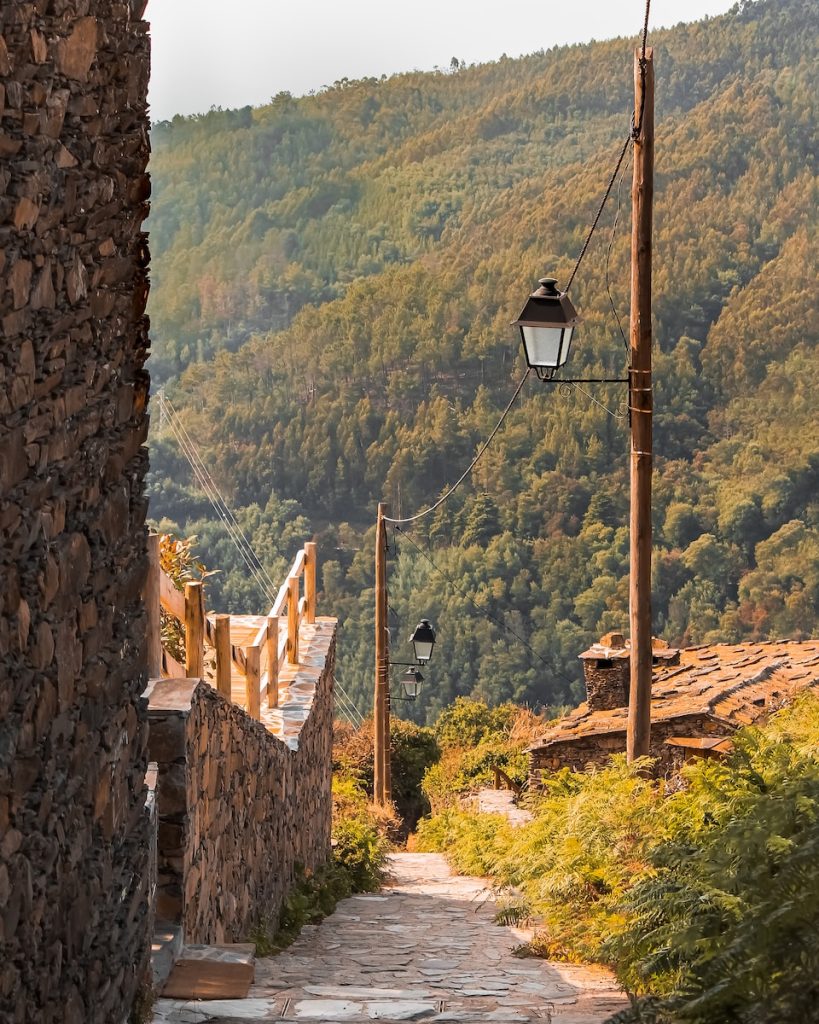 It's a total gem that nature lovers and outdoorsy folk will absolutely adore. The place is bursting with all sorts of natural beauty, from lush forests to cascading waterfalls and picturesque landscapes.
The second you get there, you'll feel like you're in a whole different world. Peaceful and serene, it's a perfect escape from the hustle and bustle of city life. You'll breathe in that fresh mountain air and smell the wildflowers and earth – it's just amazing!
If you're into hiking, you'll be in heaven here. There are tons of trails catering to all levels of experience. You can take a leisurely stroll through the valley or challenge yourself with a trek that leads to panoramic views. One trail, Rota das Aldeias do Xisto, even takes you through traditional Portuguese mountain communities that are just too cute for words. And for true adventure seekers, the Rota dos Miradouros will take you to lookout points that offer breathtaking views of the valleys and peaks.
But hiking isn't the only thing to do here. The Mondego River is perfect for canoeing and offers some of the most crystal-clear waters you'll ever see. Glide through the water and enjoy the views of towering cliffs – it's so peaceful.
And if you want to stay a little while, there are some cozy guesthouses and boutique hotels in the area. They're all nestled in the mountains, so you'll wake up to incredible views every day. Imagine sipping your coffee on a terrace and watching the sun rise over the mountains – that's the dream right there.
So there you have it. Serra da Lousã is one of the most beautiful places you'll ever see, and it's just waiting for you to come and explore its wonders.
Carnota Beach: Portugal's Secluded Haven for Escaping the Everyday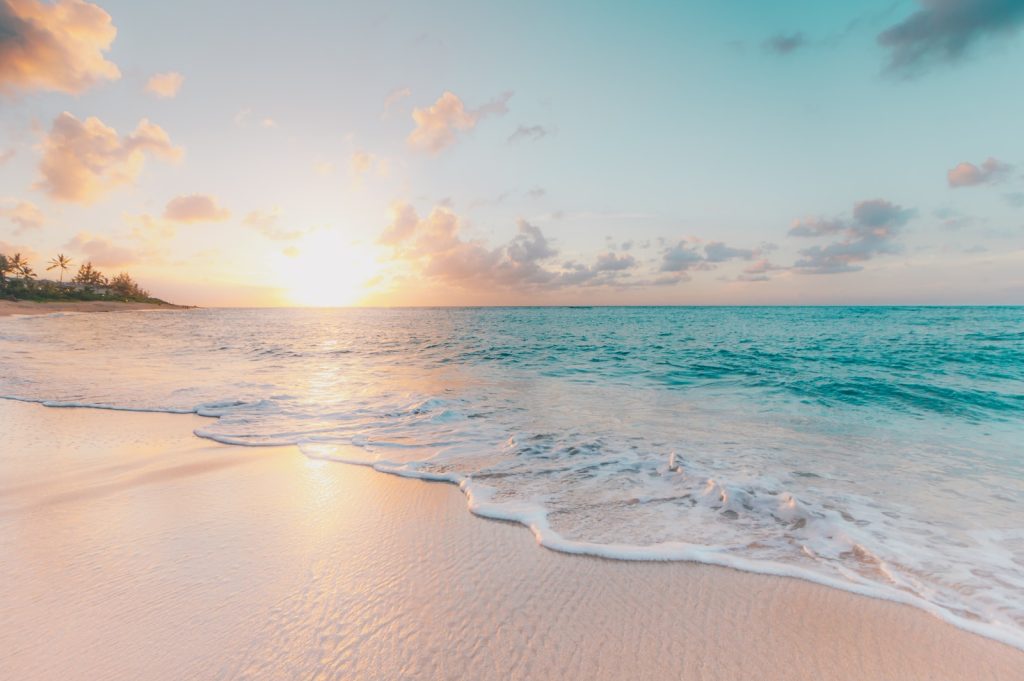 Perfect for anyone who wants to get away from it all and enjoy some peace and quiet. The beach is really secluded, so you won't have to worry about crowds or noise. Instead, you can relax and enjoy the natural beauty of the area.
One of the best things about Carnota Beach is that it's totally untouched and natural. The sand is soft and golden, and the waves lull you into a sense of calm. It's the perfect place to just unwind and let yourself relax.
If you're looking for a break from the hustle and bustle of everyday life, Carnota Beach is the perfect choice. You can soak up the beauty of the area, explore the fishing villages nearby, and really get a sense of what life is like in Portugal.
And let's not forget about the romantic side of things- Carnota Beach is the perfect place for a sunset stroll with your significant other. The views are absolutely breathtaking, and the peaceful atmosphere makes it the perfect spot to connect and create memories.
Overall, if you're looking for a tranquil escape, Carnota Beach is definitely worth checking out. Just pack your sunscreen and your favorite book, and let yourself unwind in this beautiful corner of the world.
Conclusion: Discover Portugal's Hidden Gems for Unforgettable Adventures
Are you up for an adventure? Portugal has some seriously amazing hidden spots that you've gotta check out! Sure, we all know about the cool cities and stunning beaches, but these lesser-known destinations are where it's really at. You'll get to experience some seriously unique stuff and totally escape the tourist crowds. Let's recap the top five hidden gems that should be on your radar:
First up, there's Belmonte. It's got this medieval castle and Jewish Museum that'll take you back in time. So cool! Then there's Monsaraz, this cute little village in Alentejo that's perfect for hiking and wine tasting. I mean, can you really go wrong with those two things?
If you're a beach lover, Vila Nova de Milfontes is your jam. The beaches are seriously picturesque, and the seafood is beyond delicious. For all you nature enthusiasts out there, Serra da Lousã is a must-see. The mountain range is just stunning, and there are some seriously cozy hotels and guesthouses to stay in.
Lastly, if you're looking for some serious peace and quiet, Carnota Beach is the spot for you. It's seriously secluded and untouched. Just you and the beautiful golden sand.
So yeah, these off-the-beaten-path spots are seriously worth checking out. You'll get to experience Portugal's rich history and culture, gorgeous natural landscapes, and amazing coastal vibes. So pack your bags and get ready for a seriously epic adventure!