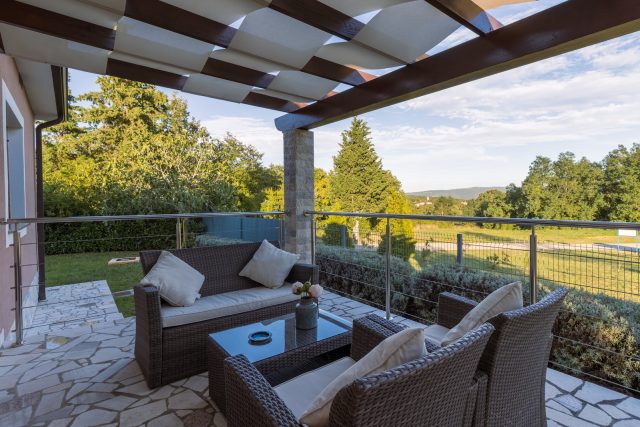 Reading Time:
3
minutes
Garden Furniture
Having the perfect garden furniture can make all the difference when it comes to enjoying your outdoor space. Whether you're looking for a new set of chairs and tables or an outdoor lounger, there are certain factors that you need to consider before making that purchase. Choosing the right furniture for your garden can be daunting, from size to style.
Benefits of Outdoor Furniture
Outdoor furniture is a great way to make outdoor areas more comfortable and inviting. Whether you want to transform your patio, deck, or garden into an outdoor oasis, investing in quality outdoor furniture can provide various benefits. From creating beautiful outdoor spaces to providing additional comfort and convenience, outdoor furniture can help you maximize the potential of your outdoor area.
Not only will adding furniture to your outdoor area create a more aesthetically pleasing space, but it also provides functional advantages too. Quality furnishings offer extra seating for when friends come over – or if you want to relax outdoors comfortably. Outdoor furniture also helps protect the flooring beneath it by shielding it from elements like rain, snow, and sun damage. Durable materials like teak and aluminum are ideal for this purpose – they won't rust or fade quickly in the sun!
Types of Garden Furniture
Gardens are a great place to relax and enjoy the beauty of nature. But garden furniture is necessary to make your outdoor space feel like an extension of your home. Garden furniture comes in all shapes, sizes, and styles – from traditional wood benches to modern metal chairs. Here's a look at some of the most popular types of garden furniture available today.
One popular choice for garden furniture is wicker or rattan pieces. Wicker or rattan is lightweight and durable, making it ideal for outdoor use. It also adds a touch of nature-inspired style to your garden space with its natural textures and colors. Wicker items such as chairs, loungers, tables, and ottomans are excellent options for creating comfortable seating areas outdoors.
Considerations in Choosing Garden Furniture
Garden furniture can be a great way to spruce up your outdoor space and make it more inviting. However, there are a few things to consider before investing in garden furniture.
It is essential to consider the weather conditions in your area when choosing garden furniture. Garden furniture made of metal or plastic may not hold up well against strong winds and rain, while wooden pieces may need regular upkeep, such as staining or painting. Consider how often you will use the furniture, too – if it's frequently exposed to the elements, you'll want something durable and easy to maintain.
In addition, think about the size of your outdoor space when selecting garden furniture. You don't want pieces that overwhelm or crowd out other important features like plants or walkways, but at the same time, you don't want them too small for comfortable seating.
Materials for Garden Furniture
Gardening season is fast approaching, and many homeowners are looking for stylish outdoor furniture to complement their gardens. Fortunately, various materials are available to choose from when selecting garden furniture.
Wooden garden furniture is popular because it offers a natural, traditional look that blends well with any landscape. Cedar and teak are two types of wood that provide more durability than other varieties. Metal garden furniture is another popular option due to its low maintenance requirements and resistance to weathering. Aluminum or wrought iron can create attractive pieces that will last for years with minimal upkeep.
For those who prefer something more contemporary, plastic outdoor chairs and tables provide a lightweight solution that can be easily moved around the yard.
Maintenance Tips for Outdoor Furniture
Outdoor furniture is an essential part of any backyard living space. Proper maintenance is key to keeping your investment looking good season after season, whether it's a patio set, lounge chairs, or tables and umbrellas. Here are a few easy tips to help maintain the quality of your outdoor furniture pieces:
Regularly clean the surface of your outdoor furniture with mild soap and water. This will help remove dirt and debris accumulating quickly in outdoor environments. If you live in a wet climate, consider sealing wooden surfaces with a waterproof sealant – this will help keep them looking beautiful for years. Additionally, consider investing in weather-resistant covers or tarps that can be placed over items when they're not being used – this will protect them from extreme temperatures and heavy rain or snowfall.
Conclusion
When it comes to choosing the right garden furniture for your outdoor space, there are a few factors to consider. First, think about the size and shape of your garden, as well as the amount of sun and shade it gets. You'll also want to select garden furniture that matches your style and personality. Finally, be sure to choose materials that can withstand weather conditions like rain or heat.
Once you've taken all these factors into account, you're ready to make your selection. From classic wooden chairs and benches to modern metal sets, there's something available for every type of garden design. With careful selection and regular maintenance, your garden furniture will look great and last for years too!