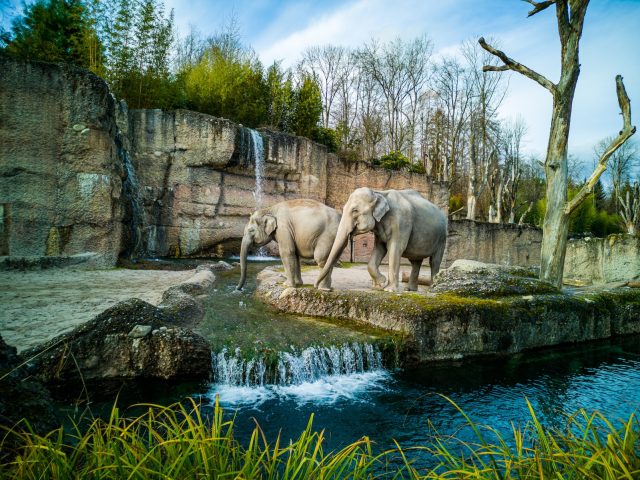 Reading Time:
4
minutes
Overview of Zoos
When looking for a fun and educational family day out, there is no better way to explore the natural world than to visit one of the best zoos in the United States. Zoos are an excellent opportunity to learn about wildlife conservation and animal husbandry while being entertained by the variety of different species on display. This article aims to provide an overview of some of the finest zoos located in America and why they have achieved such high levels of recognition from visitors and experts alike.
What Makes a Great Zoo?
Zoos are one of the most beloved and timeless attractions for families, friends, and couples looking for an exciting day out. But what makes a great zoo? The best zoos in the United States come in all shapes and sizes, but they all have specific characteristics that make them stand out.
A great zoo offers more than just caged animals; it is an experience! It should provide educational experiences such as talks or interactive exhibits that allow visitors to learn about the animals and their habitats. It should also offer plenty of green space for visitors to explore on their own time. Zoos with wide open spaces give guests the chance to take a leisurely stroll through the park while admiring its inhabitants from afar or get up close and personal with friendly creatures like goats or alpacas.
San Diego Zoo: California
The San Diego Zoo in California is considered one of the best zoos in the United States. The zoo covers over 100 acres and holds more than 3,700 animals from 650 species, making it one of the world's largest collections of endangered species. Visitors to this incredible experience will be treated to a wide array of sights and sounds, demonstrating why the San Diego Zoo is considered among the nation's best attractions.
This beloved zoo offers visitors many unique experiences, such as taking a ride on the Skyfari aerial tram, which provides stunning views across Balboa Park. There are also interactive programs such as Keeper Talks, where guests can learn about animal care and conservation efforts, and animal shows featuring sea lions, apes, and birds. Guests can also explore various exhibits such as Tiger River, Elephant Odyssey, and Panda Canyon throughout their day at San Diego Zoo.
Bronx Zoo: New York
The Bronx Zoo is one of the most renowned zoos in the United States, and its popularity has been growing since its establishment over a century ago. Located in New York City, the zoo is home to more than 600 species of animals, birds, and reptiles. Whether you're looking for a day trip or an extended staycation, the Bronx Zoo offers something for everyone. It's no wonder it's consistently ranked as one of the best zoos in America!
Visitors to the zoo can explore 26 different exhibits across 265 acres of land. Some highlights include Tiger Mountain and Congo Gorilla Forest; visitors can get up close with tigers and gorillas as they roam their habitats. The Bronx Zoo also hosts events like Feeding Frenzy Fridays and Family Adventure Camps to help visitors learn about wildlife conservation and sustainability initiatives.
Lincoln Park Zoo: Illinois
Lincoln Park Zoo in Chicago, Illinois, is one of the best zoos in the United States. Located on the lakefront of Lincoln Park, it has been providing top-notch animal experiences since its opening in 1868. It is a free zoo open 365 days a year and offers visitors a chance to experience more than 1200 animals from around the world.
Lincoln Park Zoo has plenty of activities for everyone, including animal encounters, educational programs, events like Zoolights during the holiday season, and much more. There are also many unique exhibits, such as "The Farm," which allows visitors to get an up-close look at farm animals and learn about their care and habitats. Additionally, they feature a wide variety of fascinating creatures, such as lions, tigers, gorillas, and giraffes, that can be found all over the grounds.
Smithsonian National Zoo: Washington D.C.
The Smithsonian National Zoo in Washington, D.C. is one of the best zoos in the United States, and it's a great place to explore and learn about wild animals. Located on 163 acres in Rock Creek Park, the park has over 400 different species of animals from all over the world. Visitors can observe some of their favorite animals up close, including wolves, tigers, pandas, elephants, and more.
The zoo also offers educational programs for children and adults alike. Guests can attend lectures led by experts on various animal-related topics or participate in hands-on activities such as feeding giraffes or assisting with animal enrichment projects like providing toys for primates or preparing meals for carnivores. The zoo also hosts fun events throughout the year, such as nightcrawlers and scavenger hunts that help visitors learn more about the wildlife living at the zoo.
Woodland Park Zoo: Washington State
Woodland Park Zoo, located in Seattle, Washington, is considered one of the best zoos in the United States. It is home to hundreds of animals from around the world, including some of the rarest and most exotic species. In addition to its diverse wildlife, Woodland Park Zoo also offers a wide range of educational and engaging activities for visitors.
Founded in 1899 as an animal menagerie by Guy C. Phinney, Woodland Park Zoo has since grown into an innovative leader in conservation and education programs. The zoo features a variety of trails where visitors can explore everything from African savannahs to tropical rainforests. Special exhibits such as the award-winning Northern Trail provide captivating glimpses into many different regions and environments worldwide.
Houston Zoo: Texas
The Houston Zoo, located in Houston, Texas, is one of the best zoos in the United States. Home to over 6,000 animals and 850 species, the zoo offers visitors an unparalleled experience that combines education with entertainment. It also features a variety of attractions, including a carousel, train ride, and petting zoo – making it a great place for families to spend quality time together.
The zoo provides guests with multiple educational exhibits, such as Mammal Encounters and Reptile Discovery, which offer close-up views of chimpanzees, African lions, Komodo dragons, Galapagos tortoises, and many more fascinating animals. Moreover, there are plenty of animal shows at the MCV's Wildlife Theater, where visitors can learn about conservation efforts and watch trained animal demonstrations.
A variety of Choices
in conclusion, variety is the spice of life, and that sentiment holds true when it comes to zoos in the United States. From coast to coast, there are a wide variety of options for people looking to get up close and personal with wildlife. No matter what kind of experience you're looking for, there is sure to be a zoo that fits your needs.